photos that changed the world.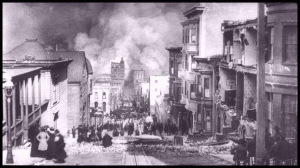 April 18th, 1906 at 5:12am an unsuspecting San Francisco was dealt two blows that would change the course of its history. Earthquakes rocked the foundations of San Fran. An 8.4 Richter shake destroyed 5,000 buildings and set fire to the very heart of 'The City by the Bay'.
Arnold Genthe

was born in

Berlin

,

Prussia. When he moved to America, he settled in the west as a practiced photographer in San Francisco. His studio was one of the buildings destroyed in the quake, however his image of that day remains. This shot documents a time of pure drama for the people of San Fran.
Photographs capture moments in time, recording the expressions and reactions on the faces of those involved. This image is testimony of the chaos caused by a natural disaster.
585 fire fighters fought tirelessly to extinguish the fires that spread rapidly throughout the city, saving the lives and livelihoods of thousands. It took 50 fire trucks put out a blaze that had destroyed a third of the city, causing devastation to San Francisco. People's homes and fortunes were destroyed overnight; with insurance companies declaring this as "an act of God", therefore unable to repay most loses. The San Andreas fault is still very much active; therefore another "act of God" cannot be discounted, but hopefully to a more prepared city with less catastrophic consequences.
A war photograph, or a painting of disaster at first glance, this photograph is an example of history shot beautifully in the setting of anarchy. Without this photograph, 105 years ago may well have been forgotten…at least to me anyway.