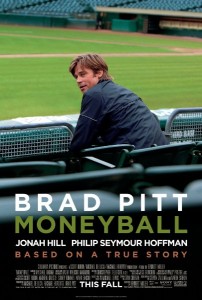 So last night, me and a couple of mates ventured up to the Odyssey cinema, Belfast.


Moneyball; a film about Billy Beane, GM of Oakland A's baseball team, starring Brad Pitt and Jonah Hill.


Just to fill you in, I'm a huge American sports fan, but my baseball knowledge isn't great. This meant I wasn't sure if I'd be able to follow the story or not, luckily it didn't really matter.


Stats, that is baseball to me, stats on everything. Moneyball for me cast a little light on the stats, the concept of averages and how a team can be built up with 'enough wins' through averages. The A's are a low budget baseball team, the lowest of the low when wages are compared. Peter Brand (Jonah Hill) is a young graduate out of Yale, who has designed a program that could 'technically' computer-generate a winning team, without using baseball knowledge or scouts.


It's a romantic, slow moving film about baseball; pretty perfect echo to what baseball really is. The GM position Brad Pitt plays isn't glamorised, its not over the top. Sure when he get's angry we see the snippets of a chair flying out of the office or a casual table flip, but that's what I enjoyed about it. The movie didn't really feel like a movie, sure there was cinematic build up and all that, but by the end of it I had felt like I was an intern at the A's watching how that season really did pan out.




I'm just a little girl lost in the moment
I'm so scared but I don't show itI can't figure it out, it's bringing me downI know I've got to let it go and just enjoy the showJust enjoy the show, just enjoy the show


"Lenka, The Show", was covered in the movie by Brad Pitt's daughter, Kerris Dorsey. Perfect way to end the show.


8/10


Moneyball