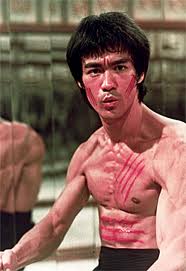 So recently I watched Kill Bill with my house mates. Got me thinking about how sweet it would be to be Bruce Lee. "Absorb what is useful, Discard what is not, Add what is uniquely your own." He was undoubtedly a legend, one of the most recognisable names in Hollywood. I'm not sure you should be friends with someone who doesn't know the name Bruce Lee. To this day he remains the greatest icon of martial arts cinema, and a key figure of modern day popular culture. His trade mark animal noises and acrobatic defence defined the age of cinema and possibly even created the martial art movie genre.





Not too long ago I also happened to come across a movie called 'Dragon: The Bruce Lee Story' a movie that somewhat describes the life of Bruce Lee. Jason Scott Lee, who plays Lee ironically isn't any relation… unfortunately.

I dunno what it is about Bruce Lee, but as soon as you watch a few interviews, you start to realise this guy was so different. Unique in so many ways. He didn't follow the norm, his views of politics and the world in general stood above what most other actors and actresses represented.

"BE WATER MY FRIEND"

Bruce Lee left the world without much of a good bye, he mysteriously died in May 1973. Lee collapsed in Golden Harvest studios while doing dubbing work for the movie Enter the Dragon. I guess when someone so famous and so iconic dies they usually leave a legacy, a suspicion and conspiracy theory. Lee was no different, it cements his place in history, his technique and philosophy will be constantly studied as will his death. However what ever questions lie unanswered, Lee had his own style, his own answers, his own presence.
"All types of knowledge, ultimately leads to self knowledge"