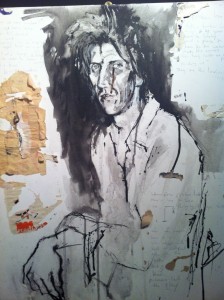 Hard to approach this subject, considering I don't really know where I stand on "Pete Doherty" Anyway, I guess the best way to write this blog is by talking about his artwork. I went along to the Cob gallery in Camden and viewed some of Petes work. I met his manager and asked a few questions…. at first it kind of a strange room to walk into, cluttered with records, cameras and collectables spilling on the floor. Massive flags hanging from the celling and a whole load of other crap that any mental collector would be proud off.
Pete Doherty is nuts. There's no shock in that, no surprise that when you paint in your own blood someone isn't going to say you have a few screws loose. Pete Doherty is talented, his work is influential, it has character, it also appears, to me anyway to be someone trying to express themselves. It's like his work explains his mood…
I guess the most controversial part of the work is obviously the bit he did't even do. The bit he influenced someone else to create. Amy Winehouse features, exclusively her self portrait is painted with her own blood. This small bit of detail in the whole collection seems to be getting most of the coverage, so I will leave it alone at the minute.
On the 25th of Feb I found it interesting that Doherty played an intimate gig, Paul McCartney's son on guitar. It was interesting because it was a statement to say that his work isn't separate to his music. If Doherty was trying to establish himself as a fine artist then it I believe he would have kept it separate.
As we were standing chatting I was wondering about the valuation of each piece, how do quote for an "artists" work painted in blood?! According to the girls and Pete's manager, an auction will be happening over the next few weeks, at the Cob gallery. The one piece that most people will be interested in will be the Winehouse canvas. It has that controversy that gives the work more that just another blood splatter. It's TWO blood splatters, by two pretty influential people. Doherty's manager, speaking as a businessman was keen to get this piece to auction as quickly as possible. Stating that the longer they wait, the less valuable Winehouse's blood will get…a cruel reality.
The one question I had asked myself before going to the exhibition was, Is this just another famous person thinking they can do something….because they have a audience? Yes, it is. Would this be exhibited if Doherty wasn't Pete Doherty? prob not, he doesn't have any credentials as an artist so why would someone take a crazy man painting in his own blood seriously. He has got to this point from being a musician, a talented musician. It's hard to know how to critique this work. He isn't an artist, he's not trying to be. So I dunno, maybe it's best to go to this if your a fan of Doherty, a fan of music and that culture his sound represents. It's an insight into his world, his ideas and his inspiration. Go have a look, it's an interesting room to say the least and a great glimpse behind the troubled eyes of a man who see's things differently.