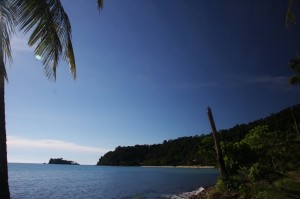 End of Koh Chan. 2 weeks gone, looking back it past so quick.
As we lay out on the mats at siam hut, basking in the evening sun. A restaurant that serves a killer garlic chicken dish with fried rice. The decking
built out over the sea, looking out over lonely beech on koh Chang island. The sun begins to set and as I start to remember the last two weeks and the
times we have, the memories we made, I start to find out how attached I have got to this island and the people we have meet, locals and travelers.
To update you from my last blog I will try and fill you in on what a general day is like…it goes a little something like this, sleep in, beech, burn, ting tongs,
nap, watch footie then head to OM bar play pool and chat. This is just a general idea of are day, and sounds like we haven't done an awful lot, but the days
we venture beyond the beach usually are the best and so I will go into a few of them. these days make up the character of the island and when we start to explore
we can see how the island along with the locals can put a hold on you and make it difficult to leave.
Canada Day. Didn't know it existed, and we had good fun celebrating it. As we sat at Om we were chatting to a few girls we had met, Myhila, Claire and Angela
and after a realising its about time to break the routine of the beech we agree on going to a rope swing. Tong and Wat the guys who work at Om tell us about
there swing and so we decide to test it out the next morning. After a days delay due to unforeseen weather circumstances we finally assemble on the mopeds
and set of towards Bang bao river. As we pull up to the bridge with are 10 strong scooter gang I catch the first glimpse of the crystal clear water, and dangling above is a knotted piece of
rope just as tong described. A picture postcard day followed by a good night, I think ill celebrate Canada more often.
Scooters parked outside the crib and as we crack open are door to let the lights creep into are pitch black cave we remember its BBQ night. Wat and Tong
said to us about having a BBQ, us and the girls. So we decided to get the ingredients, and as we were on an island it made sense to get seafood, something we
were not used to! 3 huge fish, 1kg of scallops, 2kg of shrimp, 4kg of chicken and 3 hours later it was cooked to prefect ion. Of course with a few extras like bread
and stir fried veg. As we tiptoe are way around the scallops to the chicken we finally build up enough courage to test out the tastes of the underwater
animals. Surprisingly its pretty good and I really enjoyed the slippery salty scallops, especially when dipping them into the chili sauce. Stuffed.
For the last few days the scooter gang reassembles and colgo mark and myself went on an elephant trek, one of the most surreal experiences of my life.
Safety test, Instructional video, Helmet, tied in, the things we can do, the things we can't…not here, its pretty much was pay your money, take your flip flops
off and jump on! half way through the guide jumps of and tell me to hop on the head. No explanation, just points with his stick to the head. so as I navigate over the wooden box,
and side foot along the hairy neck on top the thick skin of this massive mammal, it starts to sink in that I'm holding onto the ears of an elephant. An
amazing experience, and one that will be hard to top.
7am, stayed up all night with a few of the friends we made, and as mark fades away to bed and colgo starts to head back I finish my mamapad in ting tongs with a
few locals I realise how much I will miss this place. Backpacks packed and rucksacks organised we jump in the van and head to the ferry of the island. Sitting on my
uncomfortable green plastic seat the boat swings round and the the island slowly drifts out of view. Excited to start some new experiences in Cambodia and happy
about the ones we can remember from the past two weeks in Koh Chang.
G.