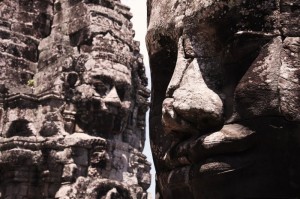 Dropped off at the boarder, we await are Cambodian friend to show us into his country. After walking through different offices, and signing papers, getting are picture taking we eventually step foot into the Kingdom of Cambodia.
After getting onto are new bus we set of for Siam Reap. As soon as we set off into Cambodia there is a vast difference in poverty, even are bus had suffered, the AC was as good as mark blowing gently on me and the pole directly in front of us wasn't very strategically placed. Looking out over the fields and villages we passed even a glimpse of normal life to these people was nothing to what we are used to. Kids with no clothes, adults lying by the roads, women carrying bricks it was all quite a surprise but the one thing that was obvious was that they didn't seem to let its affect their happiness, it was life and the children were still running around having fun and the adults chatting to each other. Driving through places like this gives you an insight into what goes on beyond the cities and tourist stops, the places we don't stop and the places we are not really suppose to see.
Heading down the main road on Siam Reap, we realise that its not a big city at all. It really only exists for tourists who have come to see the ruins of Angkor Wat. As we step into darkness of the bus, we are hounded by tuk-tuk drivers, pushing past to get are bags we gather are things. Sunbo walks over to ask if we need help so we ask him if he knows are hotel and of course he does, what we have worked out is even if they don't know were the destination is they will say they do because its guaranteed money. Luckily Sunbo did his job and we pulled up to the hotel holding onto are bags for dear life.
8am and after a well deserved sleep we make are way up, my camera seems to have died so we decide to check out the city on bikes thanks to the hotel. Navigating the roads is are first challenge, then navigating round scooters that for some reason go down the wrong side of the road is are next challenge. Unsure if there is a highway code are general motto is "go for it", it seems to be if you make yourself big on a ten speed and ding the bell then people go around.
Angkor Wat day, waking up at 8 and after consulting an idea of cycling to Angkor we decided to attempt the 55km round trip. Camera working, sun cream forgotten about and map in hand we set of the tour de Cambodia. Within the minute I regretted the decision. Pulling up to the ticket booth, $20 in hand we purchase the 1 day pass along with a water. 30 minutes later and as the huge trees and straight road comes to a cross section we hang a left and the Angkor moat stretches out in front of us. When we round the next corner we catch are first glimpse of the Khmer architecture. Impressive to think that the temple built for the king Suryavarman II in the early 12th century still stands to such perfection. It is easy to see how people from all round the world flock to see the piece of history and understandable that its now a symbol on the national flag. We then jump back on the bikes and are glad to be on the move to get some air about us. The next stop is Bayon Temple, alot smaller than Angkor but as impressive the instant you climb the steps and readjust your view the huge faces that have been carved into the rocks are starring at you everywhere you look. Outside each temple there are hundreds of stalls and as soon as we pulled up on are sweet bikes we were attacked by kids selling water, and asking were we were from. They would then list of everything they new about the country, fortunately they didn't know a lot about Northern Ireland and that give us enough time to sneak off. They also couldn't pronounce are names very well, and according to about 70% of them they were called spiderman or spiderwomen! The last temple we visited was Ta Prohm, the jungle temple or the temple from Tomb Raider Angelina Jolie destroyed. Finally we got done and had seen enough ruins, we set of back to the hotel, considering it was about 4 o'clock we were covered in sweat and apart from a minor collision between my foot and marks spokes we set of to get some food. A KFC to be precise it was the only thing that could save us. Eventually we made it, and I'm sure we weren't the most graceful entering through the doors of the colonel, but he did his job and we were saved.
9th of July was are last day in Siam Reap and we set off on another bus Journey. Another AC less bus, and to make things worse the road between the 2 major cities in Cambodia appeared to be a one lane dirt track. This journey again showed the cultural differences between the eastern and western lifestyles. As we approach the bridge into Phnom Penh we leave the poverty and are greeted by a huge LCD monitor advertising some sort of aerobics, green grass and well dressed business men. If you never crossed the bridge you wouldn't even realise the difference in lifestyle. As we navigated to are hotel it was obvious that it was located outside the normal tourist zone, and people nearly fell of there scooters trying to catch a glimpse of 3 white guys!
The next few days in Phnom Penh were good fun and nice and relaxed before we headed into Vietnam. Luckily are hotel was close to the "Olympic" stadium, it never actually hosted the games, but it was prepared to! It was also a nice retro complex with lots happing, so we walked around and watched a few footie matches before heading to the high diving boards and outdoor 50m swimming pool! It was a nice experience being just walking around, everybody was so friendly and as we were jumping of the boards the kids would come up to us and just stare or ask us questions.
As we began to pack for are adventure into Vietnam, Cambodia will be missed, especially the people, they have a lot more time for you than any other place we had been. It is an interesting country, its dirty and real, there is a sense of working class about it, the history of the killing fields is haunting and the street kids make it an impossible not to become connected.
chum riep leah (goodbye)