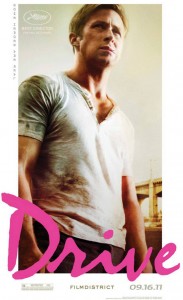 Ryan Gosling, I dunno if its his month but it seems to me everything coming out has a bit of the Gosling involved in it, or Tom Hardy. I watched drive tonight, the dirty dancing inspired font choice movie. With from what I can tell a similar soundtrack, happily enough I enjoyed the soundtrack to each film. I wasn't to sure what to expect from Drive, to be honest I was thinking it would be a fast n furious mixed with gone in 60 seconds, and with titles like they they did exactly what they said. I reckon you could have changed the title of "Drive" to "No Comment" and people would be like yeah, makes sense.
I thought it was brilliant, it showed a bit of class, it worked, the filmography and camera shots all captured the feel of the movie. It was gritty and dark, without being over the top. The music moved with the story and without being too heroic or cliché at the end it faded out just nicely.
I think it was a movie makers movie and those going to see a film with high speed chases would leave thinking "what the f…" It reminded me of "the wrestler", or maybe even a "crash" but all in all I thought it was a great show and worthy in any DVD collection when it's released.
Movie to Look out for, as I was watching this, it reminded me of a trailer for a new movie that looks very interesting, Steve McQueens new shot "shame" with Michael Fassbender who I tend to get mixed up with Aaron Eckhart but anyway the trailer for that one is pasted below…