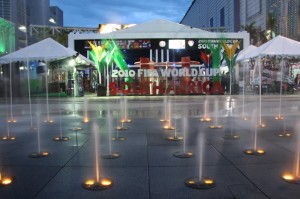 19th – 20th June 2010
19th, up early enough compared to usual. We decided to venture beyond are limits, we hopped aboard the sky train on Sala daeng station, heading north towards Mochit. As we get off the train, we wonder if we will be able to find the weekend market, we head over to the side of the platform and looking out over Bangkok is a carpet of tin huts, as far as we could see. This is the weekend market, the biggest in Thailand. Sweating it out, as is normal for white boys like ourselves we make are way across the 5 lane highway and into the what can only be called a sauna, the market had a greenhouse type effect a serious design fault. The size of the market is unthinkable, the corridors of stalls disappear into a haze and as we start burrowing are way in past denim world and threw ceramics we really start to get a sense of scale to this bargain sale. stopping at football stalls to see who has the best fakes for cheapest price, we stare up at the poor quality shirts and ask the Thai man if he has any with
at least an Adidas symbol, so he whips out a bag with every team imaginable. They have to hide the real fakes. Eventually as we make are way threw the pet section, stopping of course to stroke a few unbelievably cute puppies, avoiding the jewelery and furniture picking up a few bargains all the way we deciding to head
back, realising that getting out of this place could take up the remaining part of this trip. Eventually, somehow we see the exit, however one more
football shop catches are eye, retro… Shirts hanging all over the stall, Paul ince, rui Costa, everything from serie A to J league 2. Chris purchased a
J league (Japanese division) shirt and I got myself a lovely Italy 94 top, unfortunately without a Baggio 10 on the back. Siam Paragon, are destination,
we decide to watch the Japan vs Holland match in a World cup tent sponsored by coca cola. Colgo sporting a lovely J league top with "6" on the back and
myself with a Japan top on, we had many a fan, loving the fact that 2 white boys were supporting an Asian country! After the game a Japanese man came over, who a previously tried to take a picture of us without us knowing but as we are much taller than the majority of the people he failed to hide his paparazzi style approach.
He was excited to talk to Colgo, "Jeff united, Jeff united" he called out, pointing to the top. We didn't know what to do so we "Jeff united" him back!
He then points to his scarf, none other than "Jeff united" with none other than number "6" on it! This amused us for quite some time, and so we got a few photo's
and let "Jeff united" be on his way!
20th, Beer, not the drink but a guy who could be summed up as a better version of are ex best friend Chang. Beer was a 1/4 Chinese and 3/4 Thai, however he worked out I'm not to sure. His dad supposedly sneaked into the country many years ago. Anyway are new best friend Beer made us an offer we decided to take him up on. He would be are
tour guide for the day, taking us all over Bangkok on his tuk-tuk (a colourful trike, no seat belts, no doors just a space in the back for about
2-3 people, by no means the safest vehicle on the road) for a price of 10 batt, so about 25p. Deciding this would not break are budget we hop in the
indicator less death trap. The tooth less Asian tells us about the temples dotted over the city, and a few photogenic places. Suddenly Beer pulls over the tuk-tuk
to explain that for this cheap price he will make us happy if we make him happy, slightly confused at what this actually meant, toothless beer tells us
he gets petrol if he brings customers to certain shops. So agreeing we visited a total of 4 suit shops and a Jewelery shop, spending a minimum of 10 minutes, meant
beer got paid and received petrol, this made him happy! We had a great day nipping in and out of oncoming traffic, picking up free coke in most of the suit
shops and visiting Buddha's of all shapes and sizes, not bad for 25p, we were also happy!
We ventured back to the hotel and sampling the local culture we decided to try KFC, just in case it was different, then had a McDonald's Sundae for dessert
whilst watching Dennis wise, Gianluca Vialli and Gianfranco Zola on Chelsea Classic, a show being projected in the street.