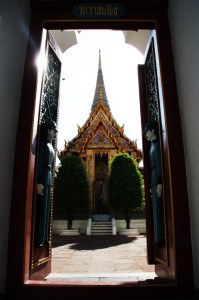 18th June 2010
Another good sleep, another day in Bangkok. We make are way out of the hotel to visit the Grand palace, unfortunately when we get into the taxi, he tells
us it is closed, he did however try his hardest to bring us any were, but we got out without a charge. Making are way to the sky train, i purchased a
"croissant" to my surprise there was a hidden sausage inside, I also had a "milk" that tasted nothing like milk, more like a mixture of bread and
white paint. Setting out across town we took another boat trip to a different temple on the map. At this point I will add the map we are currently using
has gotten us lost numerous occasions, and today was no different there is many, many streets that just don't exist on this map we have!
As we jump from shadow to shadow avoiding the midday heat we stumbled across a smaller temple with a door open so in we went.
The Glare of the golden spires and sparkle of the gems sprinkled over the buildings is astonishing. The monks in
the bright orange saffron robes making two sweaty guys from northern Ireland look severely out of place.
We visited much more of the city, including a swinging chair and the city hall, eventually we wondered back to Koh San road were Chris attempted
to eat Thai food again after his stomach disagreed with it last night. We stayed safe, Thai rice, great success. We watched the football again and made
are way home, however feeling brave and still a bit hungry we attempted some western food, Pizza Hut. We made another friend, a local girl.
We got back to the hotel in time for England match.