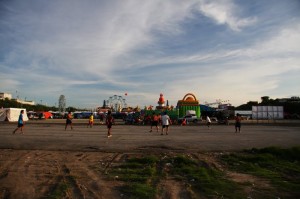 17th of June. Bangkok.
12 hours later, we arise from are pretty comfortable beds. Hungry, we decided to explore the hotel then look for some food, considering all we had to
eat was a strange bag of Thai crisps. We unfortunately got caught up by discovering the swimming pool and gym, we decided to sculpt are bodies for
an hour to help when we arrive at Koh Chang island, hopefully looking like David Hasselfof. As we were sitting by the pool an American couple, Jeff
and Nicole who were in Bangkok for a wedding told us about a restaurant near the hotel called phling ping. We set about trying to find it
unfortunately are direction skills were off, again and we couldn't find it! Deciding to travel up the river to look for something in Koh San with a little
less Phling.
The boat trip itself was an interesting experience, for about 25p we avoided the busy highways and got to view some of Bangkok's interesting river side
architecture. Dotted along parts of the River the Temples were sparkling as the sun set behind them, the locals oblivious to what is obviously an
everyday sight to them. We reached are destination and with a carefully timed jump when the boat got near the platform we disembarked.
Still hungry we made are way towards Koh San road, moving through the busy streets of Bangkok, past Markets selling everything from throwing stars
to bags to Pepsi with a straw, Buddisht monks doing there daily shopping and locals playing a game of football around a fairground that made
Barry's look like Universal Studios. Koh San road was in sight, and so was a good meal, Beef noodles with soy sauce, Argentina VS S.Korea we had made it.
Unfortunately this meal would be the downfall to Chris who was later haunted by these noodles on numerous toilets throughout the city. I personally believe
it is because he used a fork like a westerner and I used chop sticks!
We decided to quickly explore the the bars and shops around the area, going into an Irish bar we enjoyed listening to the wonders of snow patrol
and westlife. Meeting a group of Americans who were teaching English in Bangkok, and playing a few games of pool we set about trying to find watches
as we were using things like the football matches to guess the time. Addies, not the sponsor of Germany football team but surely what must be the sister
company to Adidas is the watch I settled on, for about £2 it even has a lovely flashing light display.
Making are way home, Boat was closed so we jumped in a taxi that took around 30minutes and we jump out near a McDonald's on Silom Road, making
are way back to the hotel and who do we bump into, none other than the infamous Chang, the Guy from yesterday, we quickly tell him we had to go but
would see him later on, he talked about bringing us to some bar. He would be stood up another night, so Chang if you are reading this, sorry.
Chris brought the rest of his noodle dish up and we went got to sleep.